Manchester United: Are football shirt launches becoming more creative?
Getting your festival fit sorted is always a challenge.
But when Aitch took to the Pyramid Stage at Glastonbury, he knew exactly what he was going to be wearing.
It was the new shirt for his football team Manchester United – only it hadn't been released by the club yet.
But this wasn't a fashion faux pas by the rapper, or a leak as some have suggested – instead it was a very deliberate marketing plan by the club to promote their new kit.
They confirmed as much in a statement titled "How Aitch debuted our home shirt at Glastonbury", accompanied by a behind-the-scenes video in the Old Trafford dressing room.
And it's a strategy that's worked, with tens of thousands in the crowd seeing the new shirt and pretty big hype created online.
From high-end advertising campaigns, to social media teases and players wearing the shirts in new ways, it looks like brands and teams are getting a lot more creative with kit releases.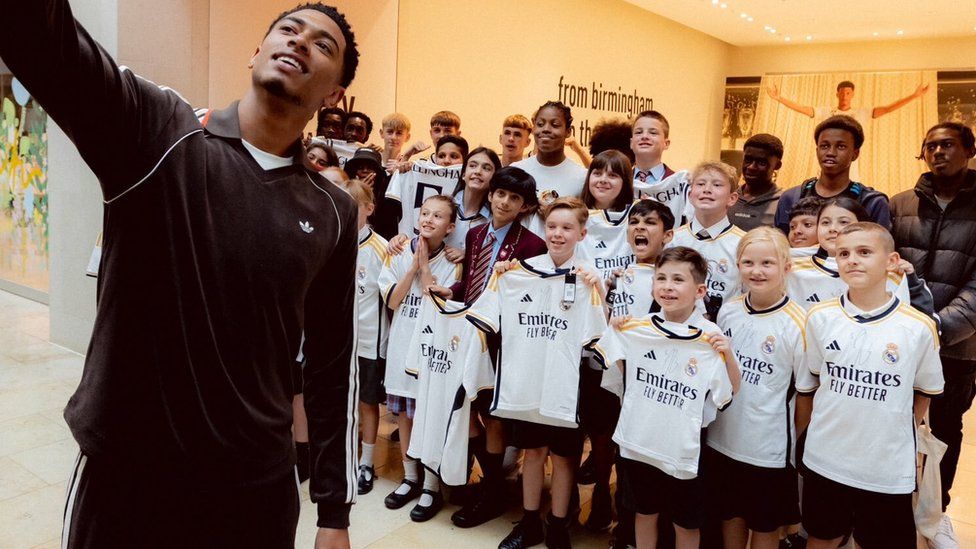 For Jenny Mitton, from the M&C Saatchi Sport & Entertainment, creating online buzz is crucial to a new kit launch.
Her brand was behind the surprise visit by England footballer Jude Bellingham to a pop-up shop in Birmingham recently.
But why Glastonbury for Manchester United's big reveal? Jenny thinks it was a clever choice to target "a huge audience" at the festival and on social media, who might not be football fans.
"Everyone talks about it and your socials were probably filled with conversation around it," she tells BBC Newsbeat.
"Brands know that fans will buy the shirt week in, week out."
With fans having to fork out some serious cash to buy a football shirt, it's important that brands market them as an item of clothing that will last, according to Jenny.
"Football shirts now have turned more into streetwear and for lots of people are a really cool fashion statement," she says.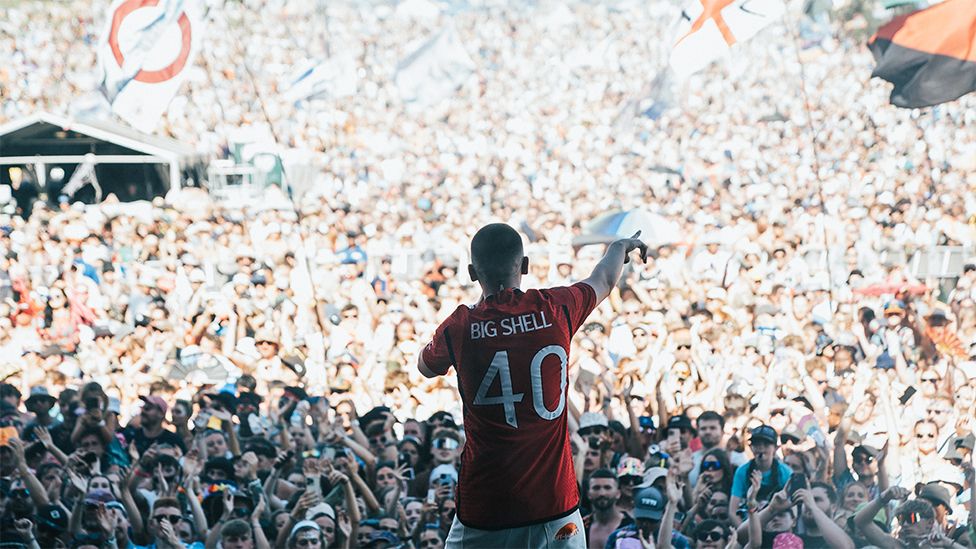 The crossover to the world of fashion is something that Josh Phillips is seeing more of.
He runs a classic football shirts shop in Manchester and says lots of his customers aren't actually big fans.
"People buy stuff now and they come in to the store and admit they don't know who these big teams are," he says.
"There'll be Benfica, Newcastle or Hamburg and they'll say I love the look of this one, it's so vintage."
Josh says for some people, a love of the fashion can spark an interest in the sport.
"We've had people who start following teams because of the kits, which I love."
And it's not just players getting involved in kit launches.
Amy Drucquer runs an online community for female football fans and has partnered with some of the biggest names in football, such as AS Roma, Arsenal and Manchester City to help them release their new kits.
"For pretty much every club we can connect up with fans of that specific club and give them the opportunity to get out in the kits to shoot some beautiful content," she says.
She feels this makes campaigns more relatable, as having "a polished campaign with models and beautiful lighting is not reality".
"When you see girls that you play football with, girls that you go and watch the football with, it feels so much more accessible."
But Amy also understands buying a kit for fashion credentials.
She's a big Leicester City fan – but her most recent football shirt purchase was a Netherlands kit for this summer's women's World Cup.
"I don't have any real connection with them, but I just think that vibrant orange really pops," she says.
And she's also having a lot of fun with how she's styling the shirts.
"I always try to girly it up a little bit because you often just see them being worn by guys at the football or in the pub.
"I've been wearing mine with long pencil skirts or cargo trousers."
---
This article was first published on BBC News.
Back to all News & Views